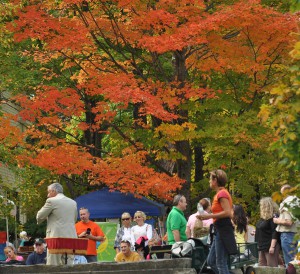 Born on the 4th of July, 1872, Calvin Coolidge served as President from 1923 until 1929.  He was a New Englander of stern integrity.  His political skills, though, were substantial, rising in 17 years from the Northampton, Massachusetts, city council in 1906 to the presidency.
           He had the great good fortune to face no major crises, domestic or international.  So, he was never tested for greatness.  But he had trials, such as cleaning up the Teapot Dome Scandal President Harding's death left him with.
           Like Lincoln and Kennedy, he suffered the death of a child while serving as President.  Just after he was nominated in 1924, his son and namesake died of blood poisoning.  His fascinating Autobiography hints at the anguish he suffered.
           Coolidge was the subject of a marvelous, if imperfect, biography with the telling title, A Puritan in Babylon: The Story of Calvin Coolidge (1938).  Written by his friend and political ally, the great journalist William Allen White, it remains an indispensable book on America from Prairie Populism to the New Deal.
           White represented all that was good in the mid-western Republicans – steady, reliable, honest – from the time of William McKinley through Franklin Roosevelt.  He had a strong kinship to this upright New England conservative, albeit one of far fewer public words.
           They shared the rigors of a small town upbringing and learnt its virtues which they applied throughout their public lives.  Men of their times and places, they are hardly remembered today outside of the places they called home.
           In an odd way, that's fitting.  They were men in the mold of the Roman republicans who left their farms to serve their state and returned, quietly, to them when the need passed.  In Calvin Coolidge, nobility was hard learned, hard earned and lightly worn.  To him, it was the institution and the polity that were important, not himself.
           Next July 4th, visit the Coolidge birthplace and historical site in Plymouth Notch, Vermont, and share in the simple remembrance that marks Calvin Coolidge's service. You won't forget it.  And, you will be reminded of an American original, a man who served his country well.
***
           I've written on various aspects of Calvin Coolidge's life.  You'll find the list of my posts on him here.