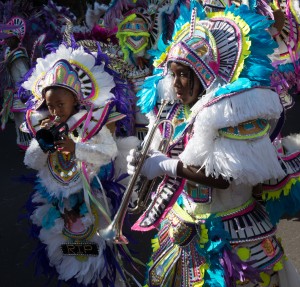 On my first trip to the Bahamas in April 2008 I happened on a 'rush' by a small Junkanoo band.  I was hooked.  My new gallery shows why.
We made plans to be in Nassau for the big Junkanoos on Boxing Day and New Year's day.  Circumstances kept us away until 2010.  Despite the coldest Boxing Day on record – I wore the parka I'd worn to Logan – I was enchanted by the music and show, delighted by the friendly crowds.  We've been coming ever since.
Last April when the National Art Gallery of the Bahamas mounted its delight-filled exhibit on Junkanoo and Gus 'Ace of Spades' Cooper, one of its modern leaders, I wrote about the parades and people.
My new gallery of snaps from this past Boxing Day lacks, I realised after putting it together, pictures of the large floats that the big contesting groups put together.  Frankly, they interest me less than the dancers and the bands – and the spectators.
Corporate sponsors for some of the Junkanoo groups include Shell Oil and the ultra-luxury development, the Albany ("This is New York in the Bahamas").  So, the spectacle can be elaborate and the numbers of participants huge for an island (New Providence) of 250,000 people.
Still Junkanoo's roots in the slave culture of the eighteenth and early-nineteenth century Bahamas show.  It was revived in the agitation for independence before World War II.
Its political element has largely, though not entirely, disappeared.  The government which is desperate for jobs and revenue has put its chips on gambling, which makes the 'Betting is a sin' costume more biting than it seems.  The Bahamians' Christian character is always close to the surface.
Amongst the marvelous costumes will appear hints of Junkanoo's origins.  This year, I saw them mainly on Shirley Street.
One important note:  Junkanoo starts in the darkest hours of the night and runs until mid-morning.  But, I'm too old to be up all night.  So, we usually arrive just after dawn.
The spectacle these pictures present is the end of six to eight hours of high tension.  Hence the snaps of weary Junkanooers.
The dancers and musicians and spectators look very differently at night.  Most importantly, the drums and cowbells – kaliks – sound very differently – something last evening's rush accompanying the remains of Maureen 'Bahama Mama' Duvalier to Eastern Cemetery reminded me.
Nassau has changed dramatically since 2008, and much more is in store – of which more anon.  Get here before Nassau's just Macau west.  You won't forget it.