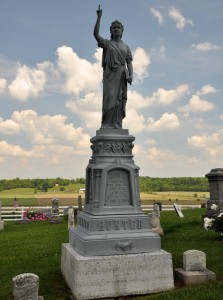 I am in Newport, R.I., celebrating the 4th with my three brothers.
          I have thought a lot about brothers over the past couple of weeks.  The tragedy – in the classical Greek sense – of the Brothers Bulger  has absorbed me for years, as I indicated the other day.  It is a story as old as civilisation.
          As I prepared another post on the Bulgers, a fine song by Bruce Springsteen, 'Highway Patrolman' (on 'Nebraska' (1982), played in my head.  But it is Johnny Cash singing it.  Here are the two opening verses and the last lines of the refrain: [1]
My name is Joe Roberts, I work for the state;
I'm a sergeant out in Perronville, barracks number 8; [2]
Always done an honest job, honest as I could;
Got a brother named Franky,  Franky ain't no good.
Ever since we was young kids, it's been the same come down;
I get a call on the shortwave, Franky's in trouble downtown;
If it was any other man, I'd put him straight away;
But sometimes when it's your brother, you look the other way.
****
I catch him when he's strayin', like any brother should;
Man turns his back on his family, he ain't no good.
          Cash recorded his version a year after Springsteen.  The lyrics above are as Cash sang them on 'Johnny 99′ (1983), reissued on 'Murder' (2000).  (Link to YouTube recording.)
          The two versions are almost identical in beat and treatment.  It's a simple story told simply, hauntingly, almost eerily.  Joe doesn't 'catch him when he's strayin' – leaving a man on the floor of a roadhouse looking bad – but lets him go.
          The song drives toward the third repetition of the refrain's final lines.    The man who's 'always done an honest job' – he avoids with Midwestern modesty claiming to be an honest man – doesn't 'turn his back on his family.  But now, like Franky, 'he ain't no good.'
          Principle triumphs over principle.  A man, in this case a good man, is caught between.  He will lose if only in his own soul.  That's tragedy.  With the listener's mind still imagining Franky's taillights disappearing toward Canada, Springsteen snaps the refrain's final line.
'Man turns his back on his family, he ain't no good.'
The irony and the double meanings burn the listener's heart.
          Cash's cover is the better version by far.
          He pares Springsteen's spare lyrics.  For instance, in the third and fourth lines, Springsteen begins with 'I'; Cash drops both. 
          Like Gordon Lightfoot, Bruce Springsteen always leaves a clunker or two in the songs he writes.  Cash does not eliminate all of them.  But Cash reorders the words in the 8th line to continue the rhythm of each line's two clauses which then gives the second half of the line its punch.  Yet in every way, Cash is faithful to Springsteen's vision.
          In Cash's version, the story gains a relentless pace that makes its climax almost unbearable.  By eliminating Springsteeen's brief guitar breaks, Cash gives you not a second to separate yourself from the events.
          Rosanne Cash described her father to American Routes' Nick Spitzer as first and foremost a storyteller.  (Sept. 8, 2010)  I agree.
          Whether Homer or the Brothers Grimm, the greatest storytellers took other people's stories and gave them a different, greater rendition.  Who would care about some inconsequential Bronze Age war had Homer not recounted it?
          Johnny Cash stood in this tradition.  And, 'Highway Patrolman' is one of 'his' best.
Notes
          1.  A lesson learnt more than once: the on line song lyrics, unless they're on the writer's website, are often inaccurate.  The variance on this one song is considerable among the transcriptions, and certainly between them and Springsteen's recording.  The version that is allegedly Cash's isn't.
           2.  The Wikipedia article on 'Highway Patrolman' notes its geographical impossibilities.  Springsteen's lyrics, evidently, cite 'Perrineville', a town in New Jersey.  As I've transcribed the lyrics, the reference is to Perronville, a tiny town on Michigan's Upper Peninsula.  The geography of the song then works, as do the references to farming.  Wikipedia correctly notes the reference to 'Michigan county' which doesn't exist in Michigan.  I would guess Springsteen meant 'country' which would make sense.