The Imperial War Museum in London has just opened Lee Miller: A Woman's War which will run through April 24, 2016. The sterling reviews suggest it's a show worth traveling for.
How could it not be?  Lee Miller's previously known photos of England during the Blitz and the US Seventh Army's progress from Normandy to Austria have always been admired – rightly.  And the notices promise several images not seen in 70 years.
Any shortlist of great World War II photographers would include Miller. Her images of Dachau on April 30, 1945, the morning after it was liberated are her most famous and familiar.
But it's likely the picture that will stick in your mind was taken by her compatriot, David Scherman, late that day. A weary Miller sits, somewhat awkwardly, in an immaculate modern tub, washing herself, her combat boots with Dachau's dust still on them at 90 degrees to the tub's tiled exterior – in Hitler's Munich home.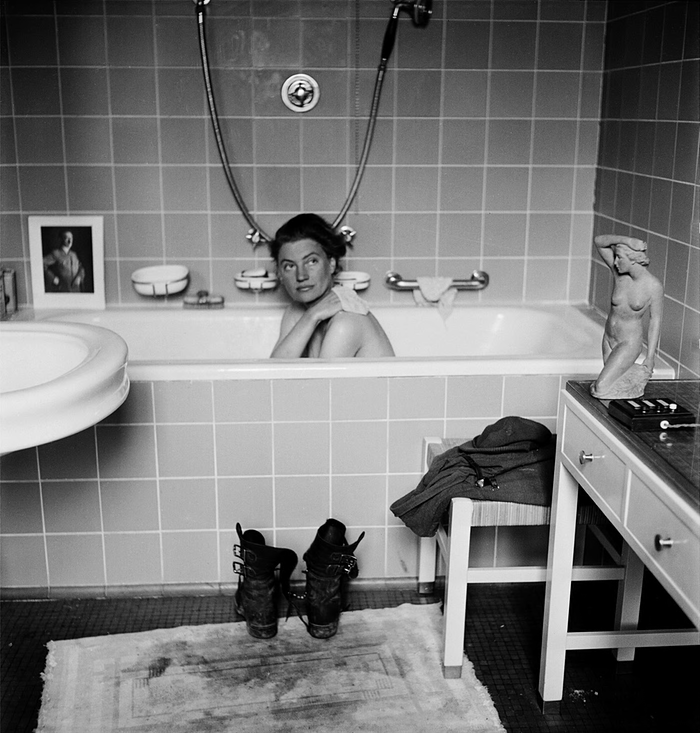 The longer I look at this carefully posed and arranged shot, the more surreal it seems.  For instance, the bare-shouldered Miller is bracketed by a small female nude sculpture at one end of the tub and a standard photo of a martial Hitler at the other.
The weirdness cannot be accidental.  Miller had been a photographer's model since early childhood, most famously for her lover and collaborator, Man Ray. In the 30s, she had done high-concept advertising and fashion shoots.  Her current lover and future husband, Roland Penrose, was a leading British surrealist painter.
I suspect that Miller, like Penrose, never reached the top of the first rank because she was so good at so many things.  The excerpts of her writing in her son, Antony Penrose's The Lives of Lee Miller (1985) make her claim to the title of 'photojournalist'.
The Lives of Lee Miller is aptly named. She had several in her 70 years. None was joy-filled.  Great shadows lay across them: rape, depression, alcohol and, I suspect, an even greater one.  She abandoned her career as a photographer in 1946.
Her son, born a year later, had an ambivalent view of her before her death, as he told the Guardian on Oct. 14: "She was a useless drunk.  This hysterical person who couldn't do a blooming thing … most of the time she was demanding and feckless and throwing dramas at every possible thing."
Afterwards, he found 60,000 of her negatives in an attic.  They inspired a journey of reappraisal resulting first in his superb biographical essay on his mother.  (Lives is a treasure.)  Over the intervening 30 years, among other projects he's kept his mother's work before the public.  A most worthy homage.
But, I keep coming back to the tub on the evening its owner shot himself.  For all its stagey perfections – Dada without humor, Surrealism without mystery –  Miller's face absorbs me.  It's that of a woman done at 38.
I contrast in my mind Miller's face with those of my father and his mates snapped at Berchtesgaden and in Salzburg probably within hours of when she passed through.  In theirs, joy.
For some who survived WWII, its end was their end.  Despite some later accomplishments, so it was for Miller.  But what a legacy she left!  You should not pass on a chance to see part of it.