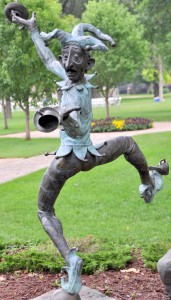 Note:  Updated 2011/07/23 at 11:00
         Two months from now, I turn 65. 
           Rather than making this plea for sympathy an occasion for a Hallmark moment, do for me as the immortal Soupy Sales told us to do for him when we were kids (or wasted college students):
 On January 1, 1965, miffed at having to work on the holiday, Sales ended his live broadcast by encouraging his young viewers to tiptoe into their still-sleeping parents' bedrooms and remove those "funny green pieces of paper with pictures of U.S. Presidents" from their pants and pocketbooks. "Put them in an envelope and mail them to me", Soupy instructed the children. "And I'll send you a postcard from Puerto Rico!"
           Actually, I'll send it to you from a hospital intake insurance desk….  Facing 65 in the torpid summer of '11 is like being 'a Christian Scientist with appendicitis', as Tom Lehrer said of the prospect of escalation of the Vietnam war the year I turned 21.
 ***
           Last summer, the Simpson-Bowles 'Cat Food Commission' proposed the most radical changes to the social insurance aspects of our human safety net since Ronald Reagan's crew discovered Catsup was a vegetable.  All to avoid increasing taxes to pay for what people need, want and have gotten for generations….
           Social Security's 'problems' would all but disappear by simply uncapping the payroll tax with pain only to those making more than $106,000 per year.
           Now it seems that the two years of effort to save healthcare and Medicare require killing the latter.  Kind of like a Vietnamese village in the days of my youth….
           As a soon to be 65-year-old the outrage I feel is towering at a Democratic President and Democrats in Congress twice in eight months surrendering 80 years of progress in social insurance as a set up for August's grand sellout.
***
           But it gets worse.  Corrente (via Naked Capitalism) reports that:
 Everyone receiving federal benefits (including Social Security and Supplemental Security Income (SSI) payments, Veterans Affairs (VA), Railroad Retirement Board, Office of Personnel Management and Department of Labor (Black Lung), is going to go direct deposit….  This new payment method will affect millions of people, including the 18 million Baby Boomers retiring in the next five years.
          The problems direct deposit will create for the non-computer literati or the addled or infirm can be imagined – especially since there is no opt out.  Check out the video of US Treasurer Rosie Rios and the GoDirect.org website for details.
 ***
           But it gets even worse!  Rios suggests that federal beneficiaries get a DirectExpress Card – a debit card by any other name… – to help manage their payments.  Update 2011/07/23 at 11:00: I have helped — no, I didn't help them; I tried to and then listened to their moans — with the nicks and tricks of debit cards.  Even for the sophisticated and with it, they seem to me impossible to use without imposts.  And the Treasury is flogging them to the elderly?! 
            Now back to Corrente:
 If you click on the "About the Direct Express Card" link, the second paragraph says:
 There are no sign-up fees, monthly fees or overdraft charges. No bank account or credit check is required to enroll. Cardholders can make purchases, pay bills and get cash at thousands of ATMs and retail locations.
 So far, so good. But here's the last sentence in that paragraph:
Some fees for optional services may apply.
 Oh, some fees — okay! Now scroll down a bit and check out the fine print (which is probably too fine for a lot of older people to read). You're allowed one (as in ONE!) free ATM cash withdrawal for every payment you receive each month. After that, you will pay 90 cents per withdrawal.
 But wait … there's more. Even the first "free" withdrawal is only free if you use "one of the more than 50,000 surcharge-free network ATMs." And that's just the tip of the iceberg. There are other fees for everything from requesting a paper statement (75 cents) to transferring your own money to your own bank account ($1.50).
  ***
           And it gets worse yet.  Back to the Direct Express website for this FAQ:
 3.2 How do I avoid transaction fees while using my Direct Express® card?
— We encourage you to look closely at the fee summary above so you can be sure to use your card wisely and avoid fees whenever possible.
You can keep your fees low if you use a Direct Express® card surcharge-free network ATM to make your one free withdrawal. For subsequent withdrawals, use a Direct Express® card surcharge-free network ATM to reduce the amount of fees that you pay.
You can avoid fees by using your Direct Express® card at stores and retail locations to pay for purchases instead of getting cash at an ATM.
When you make a purchase using your PIN number, at many places, especially grocery stores you can also get cash back for free.
You can go to any bank or credit union that displays the MasterCard® acceptance mark and get cash from a teller free of charge.
You can use your Direct Express® card to buy money orders at the U.S. Post Office and other locations that accept Debit MasterCard®.
Example: Mary receives Social Security benefits in the amount of $845 month. From those funds, she needs to pay the following:
| | |
| --- | --- |
| Rent | $500 |
| Food | $200 |
| Medicine | $25 |
| Gas | $30 |
| Utilities | $45 |
| Cash | $45 |
| TOTAL | $845 |
To keep her Direct Express® card costs low, Mary could use her Direct Express® card as follows:
 Rent and Utilities
Buy money orders at any U.S. Post Office. Mary would only pay a fee to the Post Office for the money orders, but would not pay any fee to Comerica Bank.
 Use her Direct Express® card without paying any fee to Comerica Bank, if her landlord and utility company accepts Debit MasterCard®.
 Food, Medicine, and Gas
Make purchases using the Direct Express® card, without paying any fee, at retail locations that accept Debit MasterCard®
 Cash
Get cash-back at the grocery store, without paying any fee, when she uses her Direct Express® card with her PIN number to pay for her groceries.
 Withdraw money from a Direct Express® card surcharge-free network ATM. Go to any bank or credit union that displays the MasterCard® acceptance mark and get cash from a teller free of charge.
           Update 2011/07/23 at 11:00:  Think about the illustration for a moment:  $30 for gas, 3/5 of a tank of regular here in Vermont; nothing for car maintenance; no phone expense; $25 for medicine, a crazy number just for co-pays for anyone over 65. 
 ***
           The benefits of privatization are never ending!  Just not for the consumer.  One hopes that Comerica Bank will have to share some part of the fees they will generate with the Treasury, so Mary can help reduce the defecit with the fees she'll pay for the government's convenience in ending check writing for ever lower Social Security benefits.
           Should Corrente and I seem alarmists, check with your nearest college student.  Unless you work for the consumer end of a bank, you will be amazed at how debit cards fleece students.
          Now, it's the elderly's turn to be shorn courtesy of a US Treasury endorsed card.  So, kids, send me those 'funny green pieces of paper with pictures of U.S. Presidents'.  I'm going to need them