Updated: 16th August 2011 11:00 a.m.  Link added.
Reader Alert: Snark attack!  Snark attack!  That's what I've suffered, and if you don't wish to share it, stop here.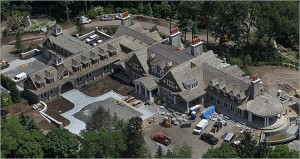 Borrowing a concept from the Pan-Mass. Challenge ride against cancer, Alex Beam, The Boston Globe's entertaining lifestyle columnist, suggested a new bike tour:  The Pan Crass Challenge.
The Tour de Beam starts in the Berkshires at Massachusetts governor Deval Patrick's new mega-manse.  Then eastward '…to gawk at the "House That Ate Weston," as Boston magazine memorably called Celtics co-owner Jim Pallotta's egregious $22 million, 27,000-square-foot wannabe Hearst Castle.'
And onwards to the inner Boston 'burbs:
Our ride ends in the gentle hills of Brookline, where … [John] Henry, the principal owner of the Red Sox, is building what looks like a medium-size prep school….
After paying $16 million for the property four years ago, Henry chose to raze [Dodger owner Frank] McCourt's 13,000-square-foot red brick Georgian Revival mansion, and an adjacent home….
…Henry easily bests Pallotta … in the MansionSprawl sweepstakes, with more than 35,000 square feet of living space. He is constructing a home theater, a theater lobby, a "grotto," (very Plato's Retreat!), a two-tier garage for eight cars, a "safe room," sports lounge, chef's kitchen, family kitchen….
So ends the Pan Crass Challenge – at least its Beam version.  The plutocrats' seems unlikely to end any time soon.
But I must disagree with Beam's itinerary.  For he has omitted the crassest of the crass, the blockbuster of all blockbusters – in the word's several senses.
I suggest that the Tour de Beam add a walk, starting north of the house the Red Sox Nation built, and down the gentle slope toward the Charles River.  There we can gape at the abandoned cellar holes of the Allston campus of the WGU – Beam's acronym for 'the World's Greatest University'.
On the sly, the Robert Moses types at Harvard bought up a somewhat grotty neighborhood south of the Business School where they planned to plop a new science campus with the same sensitivity to its surroundings as the real Moses did with the Cross-Bronx Expressway.
Like many over-ambitious developers, WGU ran out of money for Allston.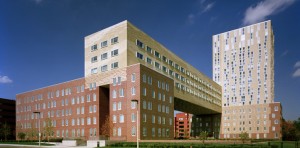 But no need to linger, admiring the hurricane fences protecting the holes in the ground and imagining the still more gargantuan buildings 'third-part developers' will insist upon.
Moving northward onto the Business School campus we come to One Western Avenue.  Its stark facade and tower are in plain view from Soldiers Field Road.  In 2003 Beam said of it: 'I kind of like 1 Western. It reminds me of the old Supreme Soviet building in Tashkent, Uzbekistan. But then again, I think Leonard Cohen is an upbeat singer. Perhaps my own taste isn't the issue here….' [1}
So surpassingly ugly and disproportionate to the B-School's core Georgian structures is One Western Ave. that no plutocrat has bought the naming rights.  It does not even show up on this Harvard map of the HBS campus.
Walking briskly north across Harvard Square – now, as a local wag put it, a strip mall without bathrooms [2] – and up Massachusetts Avenue, we come to the building that prompted this post: Harvard Law School's Wasserstein Hall. [3]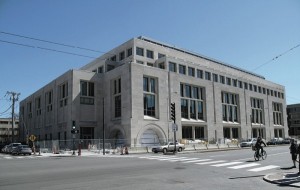 Wasserstein – named for Wendy's brother, Bruce – is a weak Onion parody of contemporary monumental architecture.  Its fussy facade reverences the much better buildings nearby – a terraced neo-classical shell entered through a neo-Romanesque double-arched corner doorway, [4] all capped by mechanicals dressed up as shipping containers.
I would have continued to swallow the anger I feel when I pass Wasserstein every day I'm in Cambridge.  But Saturday when I saw this rendering of HLS with Wasserstein's addition, I knew I had to write about it.
Whether or not you know HLS and this part of Cambridge, this watercolor bears studying.  For there are lies, damn lies and developers' renderings.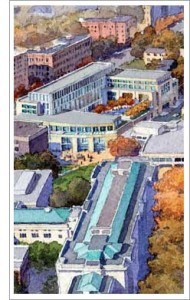 The large building in the foreground, the lovely neo-classical Langdell Hall, is to my eye lower than Wasserstein.  The new building sits north of Langdell opposite the red brick apartment buildings to the west on Mass. Ave.
From this perspective, Wasserstein fits neatly into the streetscape instead of looming as it does, like a beached white whale, half a story above them at the roof line. This watercolor also omits the mechanicals atop Wasserstein which add another full story.
The watercolorist adds at least two stories to the first five-story apartment building across from Wasserstein.  S/he elongates the second.  On the same side of Mass. Ave., just to the north of Wasserstein, the artist has placed grass where there is a one-story building – at least it was there on July 29 as it had been for 40-years and more.
And so the eye is tricked.
I am a citizen-veteran of many developers' presentations.  Whether a developer bears the name of a famous Harvard football player or is Harvard itself, its drawings on portable easels will be as credible as immigrants presenting their Armanis, Coaches and Guccis on folding tables.  The Wasserstein watercolorist has produced a masterpiece of its type.
In the Pan Crass Challenge, the sports magnates, arrivistes, can't keep up with an institution with 370 years of practice in building bigger and uglier than its neighbors.  And as Harvard's architects have proven, it's all in the perspective.
Notes:
1.  Alex Beam, "Harvard's Architects Say: How About Us?" Boston Globe, December 18, 2003, p. B10.
2.  I don't know where I read this.  I will happily credit its author.
3.  As the linked HLS site indicates, what I refer to as 'Wasserstein' actually comprises three linked buildings of which the largest by far is Wasserstein Hall running along Massachusetts Avenue.
4.  I don't believe I've ever seen a Romanesque entry sited anywhere except at the center of a wall.  It sure looks weird, especially in flat white stone.