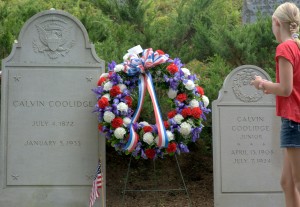 Today marks the 140th anniversary of the birth of Calvin Coolidge, President of the United States from 1923 to 1929.          
          As befits the memory of this modest man, his fellow citizens gathered outside his birthplace in Plymouth Notch, Vermont, and walked to the cemetery where he and his family rest.
It was all a fine atmosphere in which to raise a boy. As I look back on it I constantly think how clean it was. There was little about it that was artificial. It was all close to nature and in accordance with the ways of nature. The streams ran clear.[1]
          They followed an honor guard from the Vermont National Guard who placed a wreath from President Obama between the headstones of the 30th president and his predecessor's teenage son who died during his father's first year in office.
We do not know what might have happened to him under other circumstances, but if I had not been President, he would not have raised a blister on his toe, which resulted in blood poisoning, playing tennis on the South Grounds. In his suffering he was asking me to make him well. I could not. When he went, the power and the glory of the Presidency went with him.[2]
          A reading followed of brief excerpts from President Coolidge's speech on the 150th anniversary of the Declaration of Independence.
It is a great advantage to a President, and a major source of safety to the country, for him to know that he is not a great man. When a man begins to feel that he is the only one who can lead in this republic, he is guilty of treason to the spirit of our institutions.[3]
          Afterwards, the small crowd ambled back to the grounds of the Coolidge homestead and ate roast chicken nestled in the green folds he loved.
Vermont is a state I love. I could not look upon the peaks of Ascutney, Killington, Mansfield, and Equinox without being moved in a way that no other scene could move me. It was here that I first saw the light of day; here I received my bride; here my dead lie pillowed on the loving breast of our everlasting hills. I love Vermont because of her hills and valleys, her scenery and her invigorating climate, but most of all, because of her indomitable people. They are a race of pioneers who have almost beggared themselves to serve others. If the spirit of liberty should vanish in other parts of the Union and support of our institutions should languish, it could all be replenished from the generous store held by the people of this brave little state of Vermont.[4]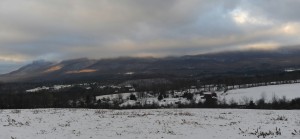 Notes
          1.  Calvin Coolidge, The Autobiography of Calvin Coolidge [1929] (Plymouth, VT: The Calvin Coolidge Memorial Foundation, 1989), p. 13.
          2.  Id., p. 190.
          3.  Id., p. 173.
          4.  Calvin Coolidge, "Address," Bennington, Vt., September 21, 1928, as quoted in William Doyle, "Coolidge Was a Colorful Personality Behind a Stiff Exterior," Rutland (Vt.) Herald, August 2, 1998, Commentary 3.