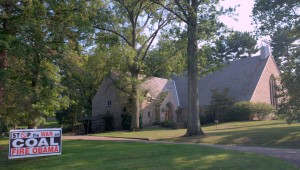 We've been driving byways for the past 16 days.  This is another report from the road.
***
          Energy's past and present we've seen in signs: from upstate New York diagonally across western Pennsylvania and northern West Virginia's over the Ohio River and then north to Lake Erie.
           Mainly yard signs, they spot the landscape.  Around Cooperstown and Cherry Valley, New York, they disdain fracking.  A couple of hours away, just across the Pennsylvania border on the back road we chose, a large sign at the first bar read 'Welcome Drillers'.
***
          'Stop the War on Coal Burn Obama':  So read yard signs throughout the Pennsylvania, West Virginia and Ohio coal fields.  You see them so often you usually don't think of their contexts which are usually well-kept, even prosperous-looking houses.
          The six-times larger sign on the lawn of the pictured Giffin Park Church in St. Clairsville, Ohio, however, has a story that's too good not to share.
          A story in the Pittsburgh Press for Jan. 8, 1964, is headlined, 'Coal Official Quits Post to be Pastor'.  'James Hyslop has retired as vice president of the Consolidation Coal Co. to become pastor of the church he founded.'  He'd also built this beautiful church where he'd preach for a quarter century.
          The Press reported Hyslop had joined Hanna Coal in 1940 rising to be president of what became a division of Consol in 1950, a post he held for 11 years.  He retired as Consol's vice president for government relations.
          Consol remains one of America's largest coal companies.  Hanna Coal in Hyslop's time had deep and strip mines in eastern Ohio.  Hyslop was long before and well after his retirement Ohio strip mining's public face.  This 1951 Associated Press wire story, for instance, quotes Hyslop on an early Hanna reclamation effort.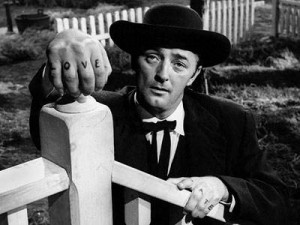 When I saw Robert Mitchum as a psychopath pretending to be a preacher in 'Night of the Hunter' (1955), I thought of Jim Hyslop.
           Hyslop's church like reclaimed strip mines is beautiful but sterile. It now houses social services agencies and is used for the occasional wedding.  Its lawn sign and handsome shell continues its founder's message.
***
           We've returned to upstate New York, to beautiful Geneva on Seneca Lake.  A block from our B&B, anti-fracking sign sits in the window of 1850s brick house.
           Two weeks ago, in Cooperstown's farmers market, I was surprised to see two Amish couples working stalls.  Taking shelter from a squall, we struck up a conversation with a couple selling the best home-made ice cream – fresh peach – I've ever tasted.  Ever!
           The couple and their two daughters farm 100 acres not far from baseball's Hall of Fame.  They rely on a pair of Belgian draft horses.
           Across western Pennsylvania and then back north, from Guernsey County into Geauga County, Ohio, we saw black buggies and an occasional dog cart.  The rapidly growing Amish population seems to be reclaiming family farmland. 

           In Portage County, not far from a yellow sign with a black buggy on it, were signs of the same size and shape as the anti-fracking signs signaling an authorized route for Chesapeake Energy's fracking service vehicles.
            I wondered, not for the first time on this trip, if the plain folk would save us from our rapacity.