N.B.:  This series of short pieces commemorates the dull 90-mile run between Marion and Toledo, Ohio, on US Rte. 23.  It became no more interesting, but unforgettable, when the farmers fertilised the fields with a winter's worth of hog manure.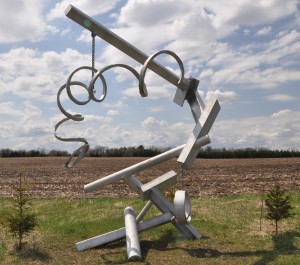 First the good news.
           I discussed two weeks ago the US government's efforts to restrict Guantanamo inmates' access to legal counsel.  US District Court Judge Royce Lamberth expressed scepticism about the new regulations in the decade-long struggle over their right to counsel.
          Judge Lamberth has now ruled in favor of the inmates.  Mark Sherman of the Associated Press reported:
           …Last month, Justice Department lawyer James J. Gilligan told Lamberth that the biggest change in the rules would be access to classified information. Lawyers wouldn't have automatic access to classified documents that they obtained or created as part of the detainees' earlier court cases.
           Lamberth said Thursday he saw no need for a change. "The old maxim 'if it ain't broke, don't fix it' would seem to caution against altering a counsel-access regime that has proven safe, efficient, and eminently workable. Indeed, the government had no answer when the court posed this question in oral arguments," he said.
          There are nearly 170 men at Guantanamo, many who have been there for 10 years without facing any charges.
The presence of one should shock the conscience of anyone with a duty to uphold the Constitution – not just defense lawyers, but Justice Department lawyers, too.
 ***
           Now the bad news.
           The Justice Department has convinced the 11th Circuit Court of Appeals to order the re-sentencing of Jose Padilla who was convicted in one of the sketchier Bush II prosecutions.  Unsurprisingly, the government wanted his sentence increased from 18 years.
           Since I read this report the same day I learn of Judge Lamberth's ruling, these paragraphs in Curt Anderson's AP story struck me:
           Padilla is being held in solitary confinement at the Supermax federal prison in Florence, Colo., said his attorney, chief federal public defender Michael Caruso. He said at a hearing Wednesday that he has "very limited" contact with Padilla because of prison restrictions regarding access.
           "He's developed a routine to keep his mental health," Caruso added, declining to elaborate.
           Padilla was arrested in 2002 at Chicago's O'Hare International Airport on what authorities said in the tense post-9/11 attacks atmosphere was an al-Qaida mission to detonate a radioactive "dirty bomb" in a major U.S. city. It later turned out the plot was barely more than a sketchy idea and the allegation was discarded long before Padilla was added to an existing Miami terrorism support case.
           Padilla was indicted just as the Supreme Court was poised to take up a challenge to whether the administration of then-President George W. Bush had the constitutional authority to continue holding him without charge.
           So, Padilla's lawyer has had 'very limited' contact with his client who's being held in conditions in which few could remain sane.
          In no small part, President Obama rode to victory on public outrage about abuses such as this.  The Democratic platform is silent on the subject, in contrast to 2008.
 ***
           Here is Highway 23 revisited.