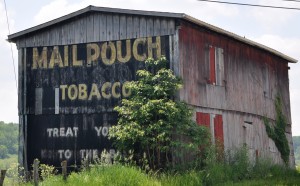 'Chew Mail Pouch Tobacco:  Treat Yourself to the Best'.
          Across the western Appalachians, that motto appeared on barns close to well-traveled roads.   One side would get a thick coat of black paint topped with hand-drawn letters.  Some lucky farmers, whose barns had two sides visible, got double treatments.
           The barns' other sides were rarely painted and weathered to gray.  Many canny Scots-Irish farmers used the same scheme on their houses and outbuildings.  Why paint what people can't see?
           Every blacksmith, many politicians and at least one Hall of Fame second baseman had a wad stuffed in the cheek.  Farriers' soggy chaws shared with fractious horses sometimes calmed those who preferred to be barefoot.  The elected spat for effect.  This boy thought Bill Mazeroski stuffed his mouth to make base runners think hard about taking him out of a play.
           A brilliant, low cost ad campaign, Mail Pouch's.  So brilliant that landowners now maintain the signs without pay, 20 years after the campaign ended its 100-year run (1890-1992).  Kitsch stores sell bird houses barns with Mail Pouch signs.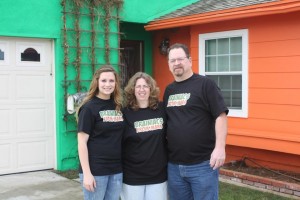 Now, reported The Boston Globe on Tuesday, a California advertising executive, Romeo Mendoza, and his company, Brainiacs from Mars, have adapted the Mail Pouch idea for bankrupt suburbia.           Brainiacs' business plan: using crowd-sourced financing, lease homes as billboards and in return pay down the homeowner's mortgage.
           In addition to the signage, homeowners must also agree to have their homes painted in contrasting tones of orange and green.
           (It's a pity the Globe chose not to use online the pictures accompanying the print article showing a before- and after-Brainiacs paint job.  Check out their home page for the full effect.)
           Given the barriers long-erected through zoning legislation and the outcry likely from neighbors, Brainiacs from Mars green and orange will not likely appear in many suburbs.
           Too bad.
          Think of the civic benefits of irresponsible borrowers branding themselves and their homes whilst pausing their payments.  But our Puritan forebears will whirl in their crypts.  The idea of paying the guilty to wear scarlet – rather, dayglo orange and green – letters!
          The Brainiacs' idea has many beneficial extensions.  Similarly brightening up hospitals, pointing out those who are under-insured, would give visual reality to the Romney notion of personal responsibility for healthcare.
          From H.G. Wells's Martian invasion to Romeo Mendoza's Martian paint jobs in just a century: What progress!