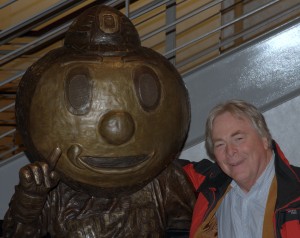 Like spectators at a Vatican conclave, only those devoted to fashion in uniforms stuck around for the end of Boston College vs. Notre Dame.  The God (Awful) Bowl last evening did not sharpen my appetite for more intra-Church football games.  (Did anyone note a Roman collar in the crowd shots?)           This morning, the New York Times promised something worse: a God Bowl Championship Series.
           Yes, sports fans, the family who brought you the Moral Majority wants to put the Evangelicals vs. the Catholics into your football fixtures. 
           Jerry Falwell's Liberty University is looking for a home in 'a top-level conference to begin a full schedule in the N.C.A.A.'s highest football level, the Football Bowl Subdivision, formerly known as Division I-A.'
           With information like that to be conveyed, it's no wonder Bill Pennington's 'In Virginia Hills, A Football Crusade' is so straight-faced.
           Or maybe it's because, like CIA Director Petraeus's all-in downfall or BBC Director General Entwistle's turfing ('Out of touch. Out of his depth. Out of a job…'), even The Onion stumbles into silence confronted with material like this.
           They just don't make post-election news cycles like they used to.
           But, back to Lynchburg, Virginia, where Jerry Falwell, Jr., quests for the holiest of grails, the college football championship trophy:
           "We think there would be a vast, committed fan base of conservative, evangelical Christians around the country and maybe even folks who are conservative politically who would rally behind Liberty football," [Jerry] Falwell Jr. said, smiling at the thought. "They would identify with our philosophy."
           The university has a motto for the cause: "Champions for Christ."
           "And yes, there are parallels to Notre Dame," Falwell continued. "There might even be a little rivalry there — the Catholics against the Protestants."
           Lest one get too dewy eyed at the prospect of such always happy rivalries, one should recall all the newly minted lawyers from Liberty's law school who prop up wingnut think tanks and astroturf groups.  The game is money and power.
          [Jerry Falwell, Jr.] is not prone to proselytization but has the conviction of a zealot. Chasing big-time football is a matter of exposure and the good it can bring to the crusade.
           …Liberty sees an opportunity, a place on the vast stage that is college football, which is something akin to a religious experience in America. There is no pulpit as well lighted as the end zone of a national championship game.
           "It's where we should be," Falwell said…. "We would be reneging on Liberty's mission if we didn't try."
           ****
           And what of the chance for embarrassing scandal?….
           "We're not going to back off because of bad things that might happen — not after 40 years of struggling to get here," Falwell said…. "For every school that has had that kind of problem, there are 25 that haven't."
           Falwell laughed as if contemplating the notion that Liberty, with its sedate, no-partying campus atmosphere, could be overrun by wanton, uninhibited football players.
           "I'm pretty sure we'll be one of the 25 without those problems," he said.
           How many times can we invoke the name of Ohio State's former coach, Jim Tressel, now 'excited about being [an Akron U.] Zip'?  Probably not enough, but it may be fun to watch Liberty try to play money ball 'without those problems'.
          Tressel's successor at OSU, Urban Meyer, has a 5-year, $26 million package including perks and bonuses galore.  The make up and calculations of the return on that investment would make interesting reading.
          Episcopalians like me insist on diversity, if on nothing else….  In my view, a God Bowl Championship Series will offer a hollow vessel without a Jewish team.  My choice: the Brandeis University 'Judges' who'd restore Old Testament/Progressive ethical rigor to college ball.
           Perhaps in respect to its namesake (and my hero), however, the closest thing to 'Bowl Subdivision' football the Judges play is … club Quidditch.