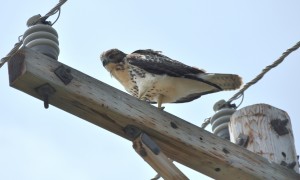 Until this afternoon, I'd missed this current teen craze.  Indulging my prurient interest and my reflexive desire to crticise the rising generation, I did a Google search.
           I can report – to my surprise – it looks like a lot of fun, though it is unlikely to sweep my cohort.  Maybe it should.
           My thorough thirty second search produced this gem on NJ.com, 'Bergen County does the Harlem Shake' (Feb. 25, 2013).  The third video there is set on the steps of Teaneck High and includes an enthused tourist.  Hysterical.
           Lest one think the administration of Teaneck High School, which has been one of the country's best for generations, sanctioned shaking on its hallowed steps, NJ.com makes clear its video was shot on Sunday.
           That detail's important.
           Half a continent away, administrators and a 'school's resident police officer' did not approve.  So reports Nicole Norfleet in Mound Westonka principal, student offer different takes on 'Harlem Shake' in the Minneapolis Star-Tribune yesterday.
           Norfleet summarises the view of Jake Brandstetter, a senior hockey player:
The students, including six hockey players, were recording a school-sanctioned video of themselves performing the "Harlem Shake" in the cafeteria so that they could submit for a weekly school broadcast, he said.
 As two lunchroom supervisors watched approvingly, the dancers recruited other students to join in and some of the dancers jumped onto lunch tables, Brandstetter said.
 He said he did not see any tables or other school property damaged or any food thrown. After the dance, as he and others were returning their lunch trays, the school's resident police officer and its activities director, Dion Koltes, confiscated the video camera students had been using….
           A cell phone video snippet accompanying the article shows the dancing – and students walking by carrying their trays ignoring the dancers.  No 'Animal House' cafeteria scene this.
           But in Mound, Minnesota, on several of the 10,000 lakes due west of the Twin Cities, 'The Harlem Shake' defied natural order.
About 2 p.m., [Brandstetter] said, he was called into the office, where [Principal Keith] Randklev, Koltes, the school police officer and an assistant principal handed him a $75 ticket they said was for "engaging in a riotlike activity and starting a mob."
He was also told that he would be suspended for two days and would not be allowed to play in Friday night's game….  The other dance participants were called in one by one after him, and told the same thing, he said.
           What earned them their $75 tickets isn't clear:
Randklev wouldn't say what exactly the students were doing that went beyond dancing but he said, "school policies were infringed upon."  The Minnetrista police conducted its own investigation, but Randklev wouldn't detail the results.
 Love that passive voice!  Unlike Dean Wormser in 'Animal House', responsibility was not taken.
           The first consequences for the team, the school and the community came that evening.
On Friday night, the boys' varsity team played Blake School in Minneapolis in a section quarterfinal playoff game. Blake had twice as many players on the bench as Mound Westonka. The Bears won 6-4. Parents and students expressed their anger toward Koltes at the game and on social media.
 One can imagine quite easily those expressions.
           By Sunday, the Principal had heard enough and reduced the students' – six hockey players and two swimmers – suspensions to time served.  So reports Heron Marquez Estrada, 'Mound Westonka reduces suspensions of hockey players' in the Feb. 25 Star Tribune.  The $75 tickets are still at issue.
           Tonight's Mound Westonka school board meeting, I hope, will be recorded for internet viewing by those who savour their fellow citizens at civic best.
           One hopes the 'school's resident police officer' has his ticket book handy.  He'll have many parents to cite for 'engaging in a riotlike activity and starting a mob.'
           Fifty-five years ago, Leonard Bernstein and Stephen Sondheim's West Side Story juvenile delinquents put it more gently than Mound residents will tonight:
Gee, Officer Krupke,
Krup you!
 And the Principal and the activities director and the Minnetrista police department.