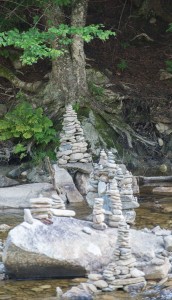 When his dog, General, got run over, in April, Grant Bercik thought about fitting memorials.  He decided to build cairns – humankind's oldest form of memorial – in the rapid, shallow Winhall River in Bondville, Vermont.
           As with most streams in southern Vermont, three consecutive stormy weekends – the last bringing Hurricane Irene – two years ago left the Winhall filled with glacial till scoured from its banks.  Newly exposed rocks lie, leached of color, everywhere.
           Bercik's water sculpture garden runs along Vermont Route 30, a busy road by local standards and the only direct route from Manchester to Brattleboro on the New Hampshire border.
           His cairns didn't meet universal approval.  A resident demolished much of Bercik's work in mid-July.  Then came the wonder.
           In the last three weeks, hundreds have spontaneously added their cairns to one hundred yards of the Winhall River.  In the fifteen minutes I took the accompanying snaps, a man in his mid-20s completed a three-foot cairn and a couple in their late-20s began another.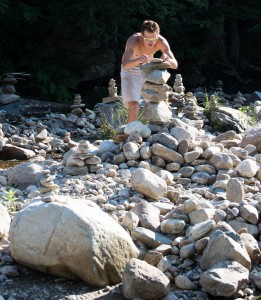 Meanwhile, a carload of Japanese tourists scrambled down the bank to get a closer look, and a father took shots of his son with the cairns in the background.
           The practical ask, will the cairns survive winter's ice and torrents?  Watching the Winhall over the years, I can't imagine they will.
           Nonetheless, something magical has happened, something that thousands will create by summer's end and thousands more will admire before November's storms.
           Thank you, Grant Bercik.
H/T:  Gen & Jotham Kinder for spotting the cairns and sharing their snaps.