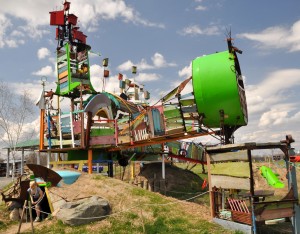 Two movies you mustn't miss this Christmas: 'The Great Beauty' ('La Grande Bellezza') and 'Nebraska'.
           Superficially the two have much in common.  Both take men late in life on present-day journeys through their pasts.  Both protagonists can wound those closest to them.  Both films are extraordinary visual experiences.  And both mix a lot of humor with pathos before ending happily.
           But how different they are!
 ***
           Numerous reviewers have compared 'The Great Beauty' favorably to Federico Fellini's masterpiece, 'La Dolce Vita' (1960).  Not wrongly.
           Both view life in the uppermost regions of Roman society.  But Fellini's savagery in attacking characters of no redeeming social importance, the decay he depicts surrounding his human detritus, is absent from Paolo Sorrentino's affectionate, amused view of the same landscape in late spring 53 years later.
           Take the aged rent-a-royals, hired to impress American publishers at a posh dinner.
           They're introduced, reading companionably in their very middle class sitting room.  The phone rings.  The Count quickly negotiates a price for the engagement, like the Drain Doctor, and returns to his wife.  At the party, they perform their roles – half fey, half nobly aloof but always gracious.
           They return home to a palace in which they live as guests. Instead of joining her husband in bed, the Comtessa walks into a gallery holding the relics of the nursery in which she grew up in the 1930s.  The note on her cradle recalls how her idyllic childhood ended with her father's bankruptcy.  Her expression of sorrow – undiminished by seven decades – almost overwhelms the viewer.
           Very different from Fellini, that.  No mockery, no cruelty.
           Sorrentino's most surreal affectation is 'The Great Beauty's' lack of decay, dirt and debris that mar even my affectionate memories of Rome.  Apart from the Coliseum, of which the large terrace of the protagonist's penthouse offers an unobstructed view, and the great imperial aqueduct along which he walks, everything is well-maintained, clean, ordered, gleaming in the Roman spring.
           As if to reinforce his settings, Sorrentino's music soundtrack is pitch perfect and, in all save party scenes, gorgeous.
           It is the protagonist's interior life that's decaying and filled with debris, like a jigsaw puzzle in a summer house grimy from use and missing the odd piece.
           Jep Gambardella (the great Toni Servillo), whom we meet at his 65th birthday party, is a journalist and bon vivant – a Tom Wolfe with the elegance and ability to wear clothes in a manner only the Italians have mastered.  Like the scenes Jep populates, he is a construction of great beauty.
           When 26 Jep rode to Rome on a successful, still highly regarded novel.  He vowed to rise to the top, which he did at the cost of his serious writing.  A love lost before Rome, seen in flashbacks, left him achingly alone, as he remains.
           His existential dread leads him to solicit an invitation to a party whose guest of honor is a Cardinal reputed to be the Vatican's top exorcist.  Whatever his talents with demons, the old bore can only gossip and talk about recipes.  Later at an outdoor wedding reception, the Cardinal takes his leave in a black limo.  Before the car starts he leans toward the back seat's open window and blesses Jep in a way that would terrify any demon.
           'The Great Beauty' has no wow finish.  Jep's life will go on much as it has.
           Jep has gained some insights, some contentment with the life he's chosen.  He's seen the life his lost love lived and realised how empty it would have been for him.  He has friends, loyal ones.  And, he has discovered the possibility of love.  For all the alienation of modern life, for all of life's existential aloneness, he has learnt his is the great beauty.
           Time will tell if 'The Great Beauty' is as I suspect, one of the greats.  For wit, insight and great beauty, it will be hard to match.
 ***
          In Alexander Payne's 'Nebraska', all is ruin and emptiness.  In an eerily crisp black and white shot largely through a fish-eye lens, Woody Grant (Bruce Dern) and his younger son, David (Will Forte), progress through landscapes and interiors of different types of wreck and barrenness from Billings, Montana, to Lincoln, Nebraska.
           When the movie opens, Woody walks along a ramp off a busy four lane highway where a kind deputy sheriff picks him up and returns him home – a run down frame house on an undistinguished street.
           Woody has received a notice he won a sweepstakes, like Publishers Clearing House's, and is convinced he's won $1 million.  He can't drive any more, and he lacks the cash to get from Billings to Lincoln where his notice originated.  But nothing will stop him from walking there.
           His wife, Kate (the wonderful June Squibb), has had enough of his craziness and drinking, and insists to her son, David, that Woody belongs in a home.  Self-absorbed, taciturn, Dern says little beyond he's going.
           David, a 40+ sound system salesman in a big-box store, has just lost his loser girlfriend, his plants are dying, and he's got nothing going.  So, he offers to take his father to Lincoln in his aged Subaru.  Off they go into the November wastes of Montana, Wyoming and Nebraska.
           At this point Paul Simon's 'I am a Rock' came to mind:
A winter's day
In a deep and dark December;
I am alone,
Gazing from my window to the streets below
On a freshly fallen silent shroud of snow.
I am a rock,
I am an island
           At David's insistence, they detour to Mt. Rushmore.  Woody takes one look at the monument and is ready to shove off.  It looks unfinished, he says.  Now it's clear 'Nebraska' isn't the story of an aged drunk with senile dementia.
           The story is not one of self-discovery.  Woody knows all he needs and wants to know about himself.  No one else has anything like a full picture of Woody, except David at the movie's end.
           Will Forte's malleable, inquiring David perfectly contrasts with Bruce Dern's zipped up Woody.  David's questions produce hilariously candid, if sometimes brutal, answers to why, for instance, he had children.
           David and Woody spend a weekend at Woody's brother's in the town where they grew up.  A hilarious mix of small town life and pungent recollections ensues, mixed with set pieces such as a dozen family males seated watching a football game silently.
           Questions David puts to the local newspaper editor, a widow, Peg (Angela McEwan) reveal sides of Woody David never suspected.  And, she suggests an alternative path Woody might have taken.  McEwan gives a beautiful performance.
           Again, Paul Simon echoed:
Don't talk of love,
But I've heard the words before;
It's sleeping in my memory.
I won't disturb the slumber of feelings that have died.
If I never loved I never would have cried.
I am a rock,
I am an island.
           Like MeEwan, the supporting cast are unfamiliar professionals or amateurs, and they are – without exception – brilliant.  Check out the Stories page on the 'Nebraska' website for the pictures and bios of several.   They deserve the credit they get.  One familiar face does a fine turn:  Stacy Keach, a small town bully grown old.
           And the music!  Mark Orton, formerly of 'Tin Hat', has composed and performed with his fellow band mates a mesmerizing score that like the movie itself slowly captures you.  It's only as the 'Nebraska' concludes that you realise how much Orton has contributed.
           The movie's ending is a real Thanksgiving present.  A moment of revelation makes sense of all Woody's craziness.  It's no exaggeration to say only Bruce Dern could have pulled it off.
           Alexander Payne gives us Thoreau's journey of men:  'The mass of men lead lives of quiet desperation. What is called resignation is confirmed desperation. From the desperate city you go into the desperate country….'  But Woody and David who will return to that life have a moment of exhilaration for which the audience need not suspend its disbelief in order to cheer.
           Alexander Payne has made movies with compelling moments ('About Schmidt', 'Election') and some with none.  Nothing in them or his last movie, 'The Descendents', hinted he had 'Nebraska' in him.  That he did makes this a very happy holiday.