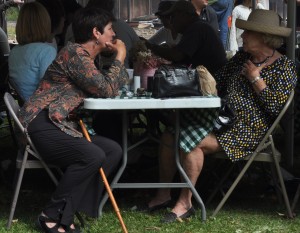 As the two principal characters of 'Another Year', appeared on screen, my wife whispered, 'It's so nice to visit Tom and Gerri again.'  And, so it was.
          It was the second time we'd seen 'Another Year', Mike Leigh's wonderful new film.  As with all of Leigh's films that I've seen, it's only on the second showing I recognized much of what so affected me the first time.
 Just Another Year
           More than one person has said nothing happens in 'Another Year'.  Tom (Jim Broadbent) and Gerri (Ruth Sheen) are happily married throughout the film.  And nothing bad does happen to them or their 30-year-old son and his new-found girlfriend.  They are nice people who do nice things with and for other people.
           In fact, it's a film about people I could like and care about.  Character is what drives a Mike Leigh movie.  His 'stock company' is as versatile and engaging as those of legendary directors Preston Sturges and John Ford.
             The vortexes of emotion are uniquely portrayed by gifted actors.  The incredible Leslie Manville nearly steals the movie as Gerri's secretary, Mary.  Mary has a knack for picking the wrong men, the wrong car and the wrong dreams.  Leigh gives her the film's last shot.  It is unforgettable.  But it's only the best of many fine moments.
          Equally good are Imelda Staunton as a long-suffering woman seeking sleeping pills from Gerri and David Bradley who plays Ronnie, Tom's brother, the new widower.  Martin Savage makes a brief but affecting appearance as Ronnie's angry son who arrives at the benediction of his mother's funeral.
Lives in a Society that Works
          Four vignettes aligned with the seasons make up the film.  They place the couple in the center of relationships that range from happily maternal to the despair of a new widower to the whirlpool of a pointless life at 50.  And in each, Tom and Gerri tend their vegetable garden allotment.
         Taken on their own, the four vignettes are compelling, beautifully played pieces.  But there is another story unreeling at a very different level.
          Leigh's characters with jobs serve the infrastructure of civil society.  They have worked hard to get where they are, and they are contributing.  For them and for the people they serve, the system has worked and is working.
           Tom and Gerri live in London in an unremarkable middle class row house with a small garden behind.  Tom is geological engineer working on a public works project.  Gerri is a mental health counselor.  In the second vignette, we hear how they met in the 60s on their first day of classes at the University of Manchester, a red brick university.
          In the third, we learn how far Tom had come, when we meet Ronnie.
           Ronnie still lives a couple of roads over from where they'd grown up in a poor section of Hull – the top finisher in the 2003 list of 'Crap Towns', the worst places to live in the UK.  Ronnie's town house would have to rank in a list of the dreariest sets ever filmed deliberately.  Wonder why Philip Larkin's poetry can be so depressing?  He lived in Hull.
          Ronnie leads the life of the long-term unemployed:  a drinking man living on the dole and his wife's wages as a waitress and charwoman, his life defined by his football club.  One can understand his son's volcanic anger.
           In contrast, Tom and Gerri have worked hard.  Their son has a job in legal aid, helping new immigrants with housing issues.  He has met a woman with energy and spirit remarkably like his mother.  She works as a physical therapist for geriatric patients.  She, too, comes from a working class background.
           In short, Mike Leigh has presented us life untouched by the Downton Abbey or City crews.  Neither is even mentioned.  'Cool Britannia' is light years away.
 Much to Ponder
          Some weeks ago, I wrote about Manville's description of her role.  I was putting her comments in the context of her brilliant performance in an earlier Mike Leigh film:
 Had I not seen several times those [final] moments in 'Topsy – Turvy'…, I might have taken Manville's observation on her performance in 'Another Year' as a simple case of actor grandiosity.  'My skill', she says, 'is to take all the universal issues in the film and shove them through the sieve of the character.'
She, her co-stars and the supporting actors do precisely that in 'Another Year'.  And, Leigh gives us a story in which nothing happens – much – but which we savour and ponder for weeks.
-30-