I find writing about art difficult. I struggle, sometimes, with how to describe the artist or her art in the obligatory topic sentence. Rachel Perry Welty poses that problem.
No topic sentence quite captures why you must see 'Rachel Perry Welty: 24/7′, her large, beautifully mounted show at the deCordova Sculpture Park & Museum in Lincoln, Massachusetts. It runs through April 24.
Ms Welty's work inspires laughter, bemusement, thought and empathy.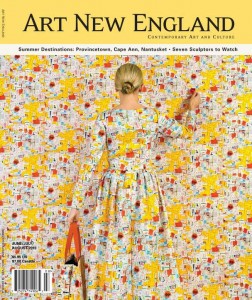 I hooted at her videoed mime to business messages left by men on her answering machine. The flashing iPhones which list her minute-by-minute, 19-hour, Facebook responses to the question, 'What are you doing now?' at first amuse but then make larger points about the nature of daily life and the mania in wanting to share it.
The most striking part of the exhibit are full-length photographic portraits, 90″x60″, of the artist. These are not conventional portraits; her full face never appears.
In my favorite, she stands on a floor and against a wall covered with flattened boxes from processed foods: Famous Amos Cookies, Triscuits, Wheaties…. From her waist to just above her nose, she holds in front of her a newspaper insert of supermarket food ads. It takes a couple of moments to realize that her blue jeans are patched like hand-sewn country quilts.
In another, reproduced above, the floor and wall are covered with the stickers one gets on fruit and vegetables. It takes, again, a couple of moments to see the complex patterns in the labels. Ms. Welty stands with her back to us, in a flowing floor-length dress and holding a bag decorated with the same labels and patterns. The effect of her precisely combed and bunned blonde hair and the whiteness, the vulnerability of her exposed neck against the labels of ingested factory foods is deeply affecting.
The most fascinating part of the exhibit is a 25-foot by 10-foot wall covered with 3×5 snaps taken over a couple of years of 'deaccessioned' items: the debris of everyday life – baseball caps, shirts, books, electronics. She memorializes each with one or two short sentences, producing a moving, mesmerizing mosaic of an upper middle class life in our time. It brought to mind Virginia Woolf's Mrs. Dalloway and Evan Connell's Mr. & Mrs. Bridge.
For all her whimsy, her use of things like twist-ties to create designs, Ms. Welty brings you into her life in unsettling ways.
She took a 25+ page hospital bill for her son and turned it into patterns of colored dots. His 40+ medical record, she turns into pages of individual letters boxed and isolated. Such is the feeling of a parent staring uncomprehendingly at her child's diagnosis. She recognizes the patterns of the letters and words, but not their meaning.
The exhibit catalogue, 24/7 , contains all the obligatory information, but its spiral-bound, handbook size pokes fun at the pretension of conventional catalogues. The cover and three succeeding pages look like the slides used to test for color blindness and reinforce the exhibit's message: look deeper, look for patterns, in the daily, the ordinary.
The pictures and presentation in 24/7 are first rate. But because so much of your reaction to Ms. Welty's art depends on its size – on the relation between your height and the positioning of each installation – the catalogue deliberately creates a different experience from a simple record – or memory aid – of what was on the walls. It contains only a tiny part, for instance, of 'The Deaccession Project.'
The deCordova filmed Ms. Welty mounting the exhibit. These videos are well-worth watching. Off the exhibit floor, toward the elevators and the restrooms, is another video, some small photos of art not in the exhibit and samples of the cloth – which you may touch – used in the fruit-and-vegetable stickers portrait.
'Rachel Perry Welty: 24/7′ stays at the deCordova until April 24. It moves to the Zimmerli Art Museum at Rutgers University in New Brunswick, New Jersey, from January 28 through July 1, 2012. Don't miss it.