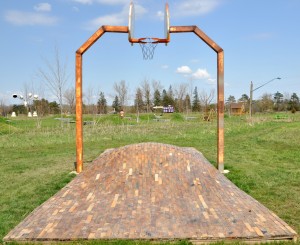 One of the pleasant surprises of a trip to the beautiful St. Croix Valley, east of Minneapolis, was happening across the Franconia Sculpture Park.  It wasn't on any of our maps.
           In the small photo gallery on my website, you'll see why we only got to half the park: a lot of standing water.  We found it between the daily deluges in early May which ever since have found their way down the Mississippi.
           The Franconia Sculpture Park is really a park, a place where toddlers can run free and families picnic and teenagers hang out.  The sculptures range from pleasant to look at, to moving, to downright funny.
           The Lizard Lounge, its snack bar, sadly wasn't open.
           I especially liked the basketball hoop and floor.  It summed up all my childhood feelings about the sport.
           When a child, the fanciful climbing structure, complete with swings and a cave, would have kept me occupied for hours.  It captured even boys and girls in their late 20s on this trip.
           The rusted figure of an anguished woman is haunting.
           The park houses some sculptors on site.  It has a construction area where you can watch new works being conceived.
           The Franconia Sculpture Park feels like what it: a small Midwestern town's park carved out of the flat farmland.  But with art that makes you feel….
          It is well worth a stop on your way to boat or eagle watch in the St. Croix Valley.