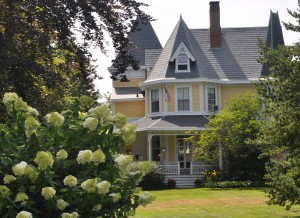 With the President – and rafts of other people – fleeing the oncoming hurricane, this quotation from the architectural and social historian, Vincent Scully, explains why summers at the shore became the rule starting in the mid-nineteenth century for those who could afford them:
Civilized withdrawal from a brutalized society encouraged interminable summer vacations (the real decadence of New England here?) to Nantucket, Martha's Vineyard, and the coasts of Massachusetts and Maine, where the old houses weathered silver, floating like dreams of forever in the cool fogs off the sea. [1]
           Not many sentences carry as much information and atmosphere as that.  The romance and unspeakable sadness to us of those shingled summer houses has never been better explained.  Civilized withdrawal for interminable summer vacations: What a sweet, unattainable dream!
Note
1.  Vincent J. Scully, Jr., The Shingle Style and the Stick Style:  Architectural Theory and Design from Richardson to the Origins of Wright (1955), as quoted in Martin Filler, "Our Grand & Randy Great Architects" New York Review of Books, May 26, 2011, pp. 20, 21.