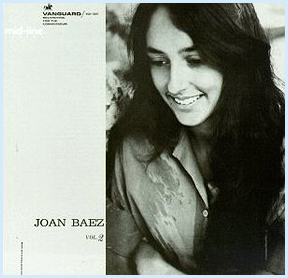 In September 1961, 'Joan Baez Vol. 2' appeared.  Five months later, on a dark mid-February afternoon, a friend played it and 'Joan Baez' (1960) for me.  Then we played the two albums again.  And again.  And again.
Fifty years later, I'm still listening to both.  All the cuts with two minor exceptions on 'Joan Baez' remain fresh, surprising, moving.
The songs on Volume 2 are traditional as are her almost orthodox treatments.  Her version of 'Banks of the Ohio' (backed by the Greenbriar Boys) sounds as if it could have been taped at WCKY or WWVA in the late 1940s maybe with the Everly family.
Yet, what a defiant album this is!  It's as if Baez said, 'I'll take songs from the canon.  I'll do them canonically.  But through the sheer force of my intelligence, my voice and my empathy, I'll make them mine.'
One ascribes defiance to youth.  And, Joan Baez was 20 – 20! – when she released Volume 2.  But she sang with the assurance and empathy of someone ageless.  I'd be very curious how she'd treat these songs at 70.  But her focus has shifted to today's burst of high-quality songwriting.
A favorite of mine from Volume 2 is the song she calls 'The Trees They Do Grow High' which dates to the early 17th century or before.  It has a number of variants of which Baez's is the most pared.  It's the tale of a young woman whose father arranges her marriage to 'a great lord's son'.
Father, dear father,
you've done me great wrong.
You've married me to a boy who is too young.
I'm twice twelve and he is but fourteen.
He's young, but he's daily growing.
Many first rankers in the folk music army have covered 'The Trees They Do Grow High', including A.L. Lloyd (1959) Martin Carthy (1965), Pentangle (1968) (featuring the greats, Jacqui McShee and John Renbourn), Steeleye Span (1974) (with the incomparable Maddy Prior), Peter Bellamy (1979) and Eliza Carthy (1995).  No one would ever get the song the way Baez did.
Or, so I thought.
A few weeks ago, I heard Altan's 2002 version which it titles 'Daily Growing'.  Led by the fine Irish band's co-founder, Mairéad Ní Mhaonaigh, and guest, Paul Brady, Altan does the song in the 'call and answer' form its words indicate:  a dialogue between the woman and her father.  Some of Ireland's finest players augment what many think is Ireland's best traditional group of the past quarter century.
In spirit and lyric, Altan follows Baez.  But the band retrieves from the tradition a couple of verses and adds two minutes to Baez's 2:57.  An earlier verse Baez omitted may have been judged too risque for Americans in 1961.  As the father, Brady sings:
And so early in the morning,
at the dawning of the day,
They went into the hayfield
to have some sport and play;
And what they did there,
she never would declare;
But she never more complained of his growing.
The fun and the double entendre:  I can't cite a comparable example in a song as sad as this one.  The verse's absence makes the grief of Baez's narrator less understandable.
Baez chose to end her version with what is Altan's penultimate verse:
 At the age of fourteen, he was a married man;
At the age of fifteen, the father of a son;
At the age of sixteen, his grave it was green;
And death had put an end to his growing.
The last two lines were a gut-punch when I was 14 and are today.
Altan's last verse is an anticlimax.  But the duet it affords Ní Mhaonaigh and Brady overcomes the damp, now trite lyrics:
I'll buy my love some flannel
and I will make a shroud;
With every stitch I put in it,
the tears they will pour down;
With every stitch I put in it,
how the tears will flow;
Cruel fate has put an end to his growing.
           Despite the immediacy and beauty of Ní Mhaonaigh and Brady's vocals, it is the cutting despair of Baez's conclusion that captures the grief of a 26-year-old widowed mother.
Perhaps in Altan's treatment I have my answer to how a more mature Baez would have treated the song.  Ní Mhaonaigh was twice Baez's age, and she sang with more distance from the lyrics.
The band's brilliant orchestration haunts, but it adds more distance between the lyrics and the audience.  Baez made the better choice in accompanying herself on a guitar and driving the lyrics hard with only the briefest rests between verses.
Hers is the better version.  But I now know it has a peer.