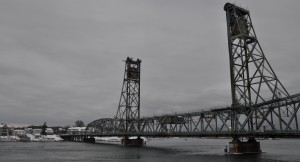 John Lincoln Wright, who died on December 4 at 64, could jolt a bar to life.  A country singer-songwriter and band leader, his distinctive bass voice – backed by a tight, driving band – could project the demise of mill life in New England or describe a now-over relationship as 'almost like living in Lowell'.[1]
A fine, clear-eyed obituary by Steve Morse in Saturday's Boston Globe captures his career and his sad decline.  It also puts a mirror in front of aging early Baby Boomers.
As one would expect of Boston's best music critic, Morse puts Wright's career in its New England context and illuminates it with choice quotations:
 "John never got beyond being a regional act, because he wasn't going to stop writing songs about New England and wasn't going to be a cracker,'' said guitarist Glenn Shambroom, who formerly played with [John Lincoln Wright &] the Sour Mash Boys.
           I wonder about that.  Another singer with a distinctive bass voice of the previous generation, Hank Snow, had a great Nashville career, though he began his career in Nova Scotia.
The last time I saw Lincoln – as he was known, just 'Lincoln' – play was at a dance in some North Cambridge hall.  It must have been the late 90s.
He was drinking too much.  But when he went on….  The man could sing and that band could play and harmonize.  What that deep, rich voice could do with lyrics meant for this listener the hall's dreary half-light and aging and aged dancers disappeared into story and sound.
I'd first seen Lincoln in the late winter of 1977.  He and a couple of Sour Mash Boys were crammed into the back of a now legendary cellar in Harvard Square called 'Jonathan Swift's'.
That night, I'd had more to drink than he.  By the middle of the first set, I'd forgotten my strong sense, walking down the many steep steps, that if fire broke out in that already smokey bar, I'd have as much chance as the Cocoanut Grove's guests.
I'd grown up with country music, loved it and knew it as a fan.  If I could hear a bar band this good in Boston, this was where I was moving, I told my companions whose couch I was occupying for a long weekend.
In 1977, Lincoln and I – and the leading edge of the Baby Boom generation – had passed the great divide entering our 30s.  Then everything changed.  Morse quotes Lincoln:
 "Country music around here quieted down in the '90s,'' he told the Globe in 2002. "Our audience bought houses and had kids and got jobs. You couldn't count on them to come out and get fried on a Tuesday night anymore.''
           Yesterday, I paid homage to Lincoln by revisiting the basement which since Jonathan Swift's demise in the early '80s, has been a skateboard shop, a boutique and, now, the Kofuku Japanese gift shop.  Nothing remained to hint of the wonders of that 'cellar by starlight'.[2]
On Saturday mornings in the '80s and early '90s, I'd run into him at the wondrously filthy, WHRB basement studios in Memorial Hall where 'Cousin Lynn' (Lynn Joiner) and 'Cousin Sinc' (Brian Sinclair) presided over 'Hillbilly at Harvard'.
For all his legendary insistence on doing music his way, Lincoln was a thoughtful, generous critic.  His on-air comments were on point, acute and brief.  But the disjointed two-minute comments off-air during songs were often funny, always intelligent.
And, he could tell stories.  I remember laughing until I hurt at his tales of the road at one 'Hillbilly at Harvard' Christmas party.  At another, he talked with deep sadness about recent disappointments in Nashville.
Like his New England contemporary and peer, Bill Morrissey who died four months ago, he suffered from the bane of country and blues musicians.  It halted his career too early and later killed him.
If you want to understand life as it was lived in the last quarter of the last century, Lincoln's songs would not be a bad place to start.
But since I heard Lincoln died, I've had in my head Bill Morrissey's voice reading the last line of his poem, 'North'.  A son talks about his father, a logger 'north of the CP Line' in Maine, who 'lost his job at 41 and took himself out at 45.'  He watches 'the old man' head 'down the tote road with his 12 gauge pump and a pint of rye', knowing what he was going to do.
It just wasn't in me to stop him.
Goodbye, Papa, goodbye.
Notes
1.  I believe someone else wrote the song which was a highlight for me of one raucous evening.
2.  'Cellars by Starlight' was the club column in The Boston Phoenix.