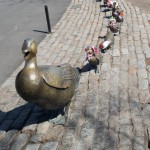 Why do I love Boston?
          Watch the press conference following 'white hat's' capture Friday evening.
           Contrast the statements of the Boston Police Commissioner, the Watertown Police chief, the State Police Colonel, the Boston Mayor, and Watertown's former State Senator (afterwards on WCVB-TV) with those of the US Attorney, the FBI Agent in Charge and the ATF's Agent in Charge.
           The locals acknowledge — by name — the people due credit.  They admit their tiredness, their frustration and, most importantly, what they don't know.
           The Feds bloviate, two of the three from prepared statements which are not used by their state and local counterparts.  Their grace notes are limited, grudging.
           No one in their right mind could want the Feds, the same people who've bungled — and much worse — the Swartz and Bulger cases, to handle the Marathon.  But, I guess they're going to.
           Hence, the presser's worst moment:  US Attorney Carmen Ortiz asserting American resident Dzhokhar Tsarnaev would not be read his Constitutional rights debased and disgraced the deaths and sacrifices we've witnessed since Monday.  Despicable.
           As for the best performers:  Boston Police Commissioner Ed Davis for Mayor! For Governor!  Boston Mayor Tom Menino for guardian angel!  Former State Senator Warren Tolman for a come back!
           And then there was the contrast between WCVB-TV, the local ABC outlet, and CNN and MSNBC. The locals won that one big time with intelligent commentary informed by knowledge of the metro's geography and people. The nets — especially CNN and Wolf Blitzer — were cringe-inducing.
           Still, Boston.com — the Boston Globe's outlet — regularly beat WCVB on developments over the day. Well done, Boston Globe. Well done!
           Of the non-locals, by leagues the most impressive was the President. He got it, in every dimension.  His call out to West, Texas, made clear the very different demands on government to respond to that horror.
           As rock-steady Governor Deval Patrick promised last evening, we in Greater Boston did sleep better last night.  Our elected officials have proven their worth, rewarded our confidence in them, yet again.
          Thank you, all.  You did your jobs in extraordinary, extreme circumstances.   Example after example over five days you gave us of 'grace under pressure':  Courage.