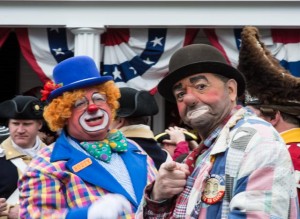 Jonathan Winters, the quintessential Ohioan, has died at 87.
           Comedian, actor and voice artist Jonathan Winters was versatile, emotional, complicated and Midwestern.  Out of ill-fit, off-the-bargain-rack clothes and a repressed affect – still found on the streets of Winesburg, Zenith and Gopher Prairie – sprang lunacy and social disorder.
           Like many of us, he found Ohio was a great place to be from starting in 1953.
           Yet, each of his many faces bespoke Dayton and Springfield. If you're interested in the sources of Winters's gentle satires, take a look at Robert McCloskey's ('Make way for Ducklings') Homer Price stories. They're based on growing up in nearby Middletown in the early 1930s. You'll recognize their common pools of human foibles and references.
           His identity as a performer – his characters – drew from the complicated mid-century geography of the Ohio-Indiana border.  Fertile farms and small towns surround the larger towns which depended on manufacturing auto parts.  Many farmers and their wives kept their land by working in the unionized plants along what's now the I-75 corridor.  Winters got all this.
           He mixed country and town on stages far from Ohio, so like most expat Ohioans, he projected a faint disconnection with his present surroundings.  His complicated roots, like those of his time, made it impossible to type him – just like the state he was from.
           Winters was at his best on the Andy Williams show. Williams had a knack for letting oddballs shine like cueballs, and Winters pocketed the chance.