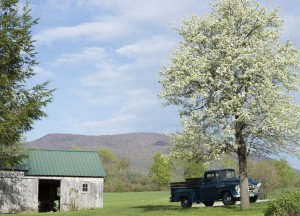 Nine months and four days after we turned our Vermont home over to our contractor, Gary Daden, we returned to our gutted-and-rehabbed house.
           We're in, but into a construction zone.  A black and yellow Komatsu front-end loader and a yellow-crowned blue port-a-potty frame my view down the greening valley of Vermont.
           The movers are long gone.  But from 7:00 to 4:00 we're part of a crowd.  Three different radios soothe builders, electricians, plumbers, painters…. 
***
           Moves become, as one ages, an archaeology of storage units and feelings.
           Unopened boxes and dust-caked furniture emerge into florescent light.  Moves in 1980, 1991, 1998, 2001, 2009, 2010 and 2012 reveal themselves and their contexts.
           From the 1991 breakup of the Ohio house I grew up in is a large, filthy box labeled 'demitasse'.  I packed it with three dozen or so cups and saucers, all lovely, many hand painted by my great Aunt Bebe.  Not even the junk man would take them.  The box, unopened, remains in storage.
           Two matching almost black late Victorian bookcases, about five feet high with a bottom drawer, attracted Claudia's attention.  In my grandparents long living room, they'd held a mixture of contemporary books and objets graced by a small vase of cut flowers on the top shelves.  I don't remember ever opening the drawers.
           In 1967 when my grandparents' graceful Victorian was to be razed for a strip mall, my mother had taken the bookshelves as I had the demitasse cups.  She referred to them, derisively, as 'bric-a-brac stands'.  But she put them to use, as was her way.
           I shared her prejudice.  But they went into my storage in 1991.  They brought back the sunny bay they bracketed where my grandparents Christmas tree always stood.
           In Vermont in a contemporary setting, they remain uncompromising, dark, but useful.  And, they held treasure.
           In one drawer Claudia found trivets and tiles my mother had used on tables and windowsills throughout our house.  I knew each.  Almost all had come from 5 cent tables at farm sales or second-hand stores.  Old friends, they were.
           In the other drawer my mother had stuffed assortments of paper cocktail napkins printed with hokey jokes she often didn't get.  'Always useful,' she'd say as she picked packets off sale tables.  More than one set her sons censored.
           Preserved among this detritus was a small, red tag with a Christmas bulb and 'Season's Greetings' on it – the type she always stuck in the ribbons of presents.  To Gordon From Nannie:  she'd inserted the names in her cramped unfeminine hand.   Below her beloved first grandson's name she'd printed G O R D O N so he could read it.   She had died in his eighth year.
           The cherry blossoms outside my warm room contrast with memories of the cold house in the gray and brown landscape where I can see her writing similar tags.  Gordon will get it again next weekend when he and his wife, Libby, introduce my mother's first great granddaughter.
***
           Somehow Johnny Cash singing 'Folsom Prison' to a crowd of inmates doesn't fit my mood.  But it's what's on 'Willie's Roadhouse', and SiriusXM keeps the contractors – and usually me – quite happy.
           And yet, like many of the songs 'Willie's Roadhouse' programs, 'Folsom Prison' takes me back to real and imagined haunts of my childhood and youth.  Just like the bric-a-brac stands.
           Even in a new room looking down a valley that will always be new to me.