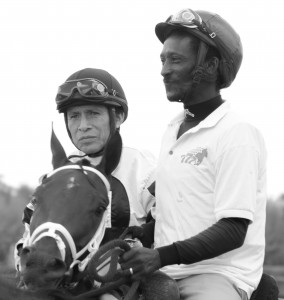 Race horses, tracks and the people who give them life have fascinated me since I was 8.  So it seemed fitting to launch the new site for The Bell.us with a gallery of pictures I took in August at the Saratoga Race Course.
Thanks to Spencer and Christine at Sherman & Luiggi, the new Bell.us site is better looking, more versatile and much easier to use.
Among its many virtues is an interface that will allow me to publish pictures I've taken.  Another gallery, this time from Calder Race Course (now Gulfstream Park West), will appear shortly.
Please let me know how you find The Bell.us. I always welcome suggestions.
 ***
Since The Bell.us will remain primarily a site for writing, permit me to explain why the racetrack pictures. It started on a November evening just after I turned 8.  On a school night (!) I was at my Uncle John's farm to see his new horse.
When I saw 'George' in a box stall in the harsh light of a single bulb, something happened.
Even at 8, I knew he was different from the other horses I'd seen.  A  bright chestnut, a bit over 16 hands, he didn't seem special, and from the way he behaved, I knew he was 'common'.  But there was something about his streamlined body, the power he projected….
He'd just arrived from the track, a 'gift' from a trainer, a law client.  The adults were a bit awed by 'George', a barn name for 'Omaha Fair'.  His sire, Omaha, had won the Triple Crown, as had Omaha's father, Gallant Fox. His other grandsire, *Omar Khayyam, an English import, had won the Kentucky Derby.
A couple of years later, when I became a devoted reader of The Thoroughbred Record (a wonderful magazine full of good writing and memorable pictures), the handsome full-page (old dimensions) ads for the famous C.V. Whitney Stud bore the tag, 'Blood Will Tell'.
'George' proved it didn't except in a way I didn't yet understand.  He'd run, as I recall, 50 times on the cheap tracks along the Ohio-Mississippi river system, ending his career at Wheeling Downs in West Virginia.  He'd managed seven wins in claiming races.  At 7, his poor knees made him not a particularly 'useful' horse.  Hence, his new home.
For a decade or more, he made my uncle a very serviceable, if ill-natured, riding horse.  And for another decade, he added a touch of class to the retirees paddock.
***
 'George' started it all.  Despite his taste for human flesh – particularly mine – he caught my imagination and then led me into a reality I still find fascinating, sometimes even enchanting.
The sight and smell of horses gives me a fulfilling pleasure that requires nothing else for perfection.  And nowhere have I found aggregated people so interesting as those around race horses – from the 'improvers of the breed' at the rail to the grooms awaiting their charges after a race to the owners in their boxes or pacing the grounds.
And the literature….