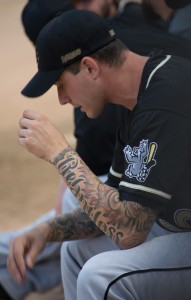 In Nice Guys Finish Last (1975), Leo Durocher wrote: 'There will never be a ballplayer as good as Willie Mays, but Reiser was every bit as good, and he might have been better…. Willie Mays had everything. Pete Reiser had everything but luck.'  Durocher managed both men.
At any time, Reiser's would be a story worth telling.  But his bad luck included a series of what were called then 'dings' – head injuries – that make for relevant reading today.
Pete Reiser was a clutch player.  He hit when it counted, he stole bases (home seven times), and he made key plays in center field.  His twelve years as a major leaguer were interrupted by WWII[1] and a series of extraordinary injuries – including a broken ankle – which he often 'played through'.
In 1958, the great W.C. Heinz[2] profiled Reiser after he'd retired as a player (in 1952) and begun a slow march from managing Class D Thomasville, GA, toward the Bigs where he'd die, a scout, in 1981.
'The Rocky Road of Pistol Pete' originally ran in the long-forgotten magazine, True.  It has re-emerged in The Top of His Game: The Best Sportswriting of W.C. Heinz (edited by NPR's Bill Littlefield) thanks to the Library of America which has made it its business to collect and preserve and keep in print significant writing that should always be accessible.  Heinz's sure qualifies.[3]
(Under a different title, Heinz's article is reprinted on Deadspin.com.  I'll link to it.  But buy The Top of His Game.)
In 1958, Reiser's story was off beat:  an athlete approaching 40 dealing with his sports-damaged body, his mortality.  Not what I was then reading in The Sporting News….
His rookie year, 1941, five days into the season, he was beaned for the first time.  Against doctor's orders, he checked himself out of the hospital.  He pinch hit the next day: a game winning grand slam.  'I could just barely trot around the bases,' he told Heinz.  'I sure was dizzy.'
Two weeks later, chasing Enos Slaughter's fly ball, he had the first of his legendary encounters with center field walls.  In August, he was beaned again and again checked himself out of the hospital.
The Dodger phenom still ended 1941 with great numbers and was 'Rookie of the Year'.
The next year, he was doing even better, hitting .391.  In July, in St. Louis with a game tied at 0 in the bottom of the 12th, he caught another Slaughter fly ball, crashed into the wall, dropped the ball, picked it up and hit his cut off man, Pee Wee Reese, who just missed getting Slaughter at the plate.
'I made one step to start off the field and I woke up the next morning in St. John's Hospital. My head was bandaged, and I had an awful headache.'  Despite his doctor telling him he was done for the season, he checked himself out, rejoining the Dodgers in Pittsburgh.  He would never be the same player.
The night he reached Pittsburgh, Durocher pinchhit him in the top of the 14th.  Wrote Heinz later: 'He walked up there and hit a line drive over the second baseman's head that was good for three bases. The two runs scored, and Pete rounded first base and collapsed.'
Reiser's summary of the 1942 season sixteen years later as Heinz reported is stunning:
"I'd say I lost the pennant for us that year," Pete says now, although he still hit .310 for the season. "I was dizzy most of the time and I couldn't see fly balls. I mean balls I could have put in my pocket, I couldn't get near. Once in Brooklyn when Mort Cooper was pitching for the Cards I was seeing two baseballs coming up there. Babe Pinelli was umpiring behind the plate, and a couple of times he stopped the game and asked me if I was all right. So the Cards beat us out the last two days of the season."
           Reiser's medical history should have kept him in the Majors during WWII, fattening his stats.  But in 1943 he was drafted and kept in the Army to play baseball.  Very bad luck:  his third Army season ended with a concussion and separated shoulder chasing a foul ball.
I will spare you even more gruesome stories from 1946 and 1947.  Worse, I won't share the affectionate tales Heinz tells.  For that, you must read Heinz.
But here was a case 60 years ago where head injuries cost a player a Willie Mays-like career.  They were well-known, public.  Heinz's story at once adds lustre to the baseball of olden times legend and reveals its 'they shoot horses, don't they?' reality.
Still, he didn't die from the dings.  Another bane of the WWII generation killed him: cigarettes.
 Notes
According to Reiser, he failed the Army physical but was inducted because he could play for the Ft. Riley post team which entertained soldiers and war-workers.
H/T:  Charles Pierce who wrote on Heinz's astonishing 'Death of a Race Horse' (1949) in a blog post I can't trace late this past winter.  A Google search indicates Pierce has touted – rightly – the piece for years.
Littlefield includes an autobiographical essay on how Heinz went from war correspondent to sportswriter.  This wonderful piece suggests there may be more Heinz worth collecting.   His neglected novel, MASH (1968) (co-authored under a pseudonym), and his other writings merit a second volume.