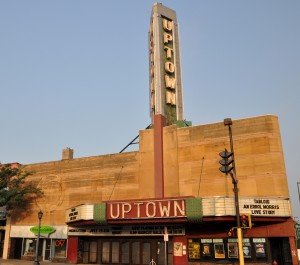 If you're looking to keep cool and be very entertained, go see Errol Morris's 'Tabloid'.
           Here are the spot-on first lines of Dana Stevens's review on Slate:
 Errol Morris' brisk 88-minute documentary Tabloid (IFC Films) can be watched as a meditation on celebrity journalism, erotic obsession, and the inherent unreliability of the narrative voice. Or it can be gawked at as a sexy, sordid, sometimes hilarious freak show. To Morris' credit, the film seems to invite and welcome both modes of viewing.
           It's the 'truth is far stranger than fiction' story of the Mormon Manacler, Joyce McKinney.  Her kidnaping – was it? – of her Mormon missionary fiancé – was he? – for a weekend of wild sex – was it? – resulted in media madness in the London 'red tops' for months in 1977-78.
           The story not only defies belief, it defies synopsis.  For instance, McKinney and her collaborator successfully fled England for Canada by posing as deaf mutes in wigs not out of place in a middle school play bearing 12 suitcases filled with press clips.  And, that's only part of the incident.
           I see no connection between the film and the Murdoch Mess.  The two tabloid representatives in the film are equally though differently reptilian – one having promoted her, the other having exposed her.  But their pocketbook peccadilloes seem quite innocent compared to hacking the voice mail of a kidnapped girl.
           McKinney's promoter describes her as 'barking mad', a Britishism that proves quite apt as Morris's tale concludes.  Crazy as she must be, she's engaging and witty and innocent like a very smart 10-year-old.  In contrast, her supporting cast seems pallid or cruel or both — including the talking head who explains Mormonism.
           I saw 'Tabloid' on the big screen of the wonderful Uptown Cinema in Minneapolis.  Morris is one documentary-maker who is meant for theatres, for projections of figures bigger than life.
           Don't miss 'Tabloid'.