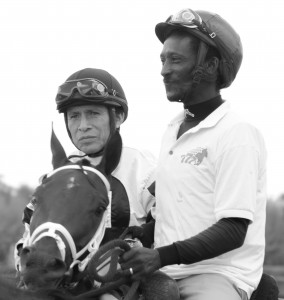 I fell in love with racetracks shortly after I saw my first Thoroughbred.
No enterprise offers so much varied activity by so many people in a full afternoon.  The jobs are varied but they have to be done against a tight schedule marked by calls, and horns and bells.
Every race is the same.  Every race is different down to the smallest detail.
On Oct. 25, 2014, I went to Gulfstream Park West in Miami Gardens, Florida.  It was until this year the Calder Race Course.
West is a great place to go if what you're into are horses and the people who ride and care for them.  You are as close to the action as you can be at any track.  You can watch from 10 feet away horses being saddled.  The walking ring doesn't require a pass.
The horses in October were largely ones who'd not done well during the summer up north.  But the races were competitive, interesting.
My biggest thrill was seeing the Hall of Fame rider, Edgar Prado, on three mounts.  Prado is best known for his great rides on Barbaro, including the great racer's last run.  But this bit of film speaks best for the man.  A great athlete, a fine man.
The track is no Saratoga.  There's no clubhouse or fancy dining; all is very functional, democratic.  The small crowd was friendly and quite varied.  The horse people did their jobs with a minimum of fuss.  Professionals.  The horses filled the eye and the soul.
So here are some pictures from that afternoon.  They are skewed toward horse people whom I find fascinating.  I hope you do, too.